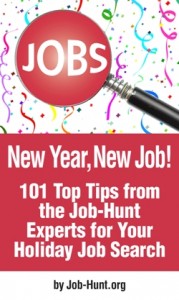 Many people assume that their job search will come to a screeching halt the day after Thanksgiving and won't pick up until January. But contrary to popular belief, millions of jobs are filled during the holiday season and job seekers who "stick with the program" in December may be rewarded with that spanking new job in January.
I recently partnered with Susan Joyce of Job-Hunt and dozens of career experts to create a new e-book called New Year, New Job! 101 Top Holiday Job Search Tips from the Job-Hunt Experts for Your Holiday Job Search, a quick but information-packed read. Fortune recently profiled some of our  top holiday job search tips and the book chapters include:
Holiday Awareness
Holiday Hope
Employers Are Motivated!
Your Competition Is Taking Time Off
Some Barriers Are Down
Leverage the Season
Pre-Party Prep and Planning
Have Your Own Party
Party and Travel Time!
Handle Those Awkward Questions and Conversations
Party Follow-Up
Beat the Blahs
Cultivate an Attitude of Gratitude
Sharing Lifts Spirits (and Expands Networks)
Painless In-Person and Social Networking
Network Through Volunteering
Position Yourself to Be Found Online
A Time when Gifting May Be Appropriate and Helpful
Time to Play Cards
Move Forward: Plan, Prepare, and Follow Up
Why Temping May Be a Good Option
Manage Health Limitations
Special Tips for Veterans
Special Tips for College Students
The book is free on Amazon Kindle until midnight tonight and you can download it here. Starting November 27 it will be available for only 99 cents. Happy Holidays!