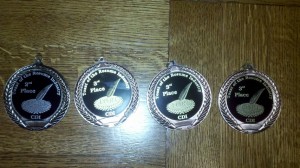 Each year Career Directors International hosts the TORI (Toast of the Resume Industry) awards competition to recognize the work of resume writers across the globe. The competition is like the Olympics for the resume industry and winners even receive medals for their work. This year Career Solvers was awarded four medals for resumes in the following categories:
Best Technical Resume
Best Sales & Marketing Resume
Best International Resume
Best Creative Resume
I've always been a sucker for shiny objects and I was thrilled to receive my awards in the mail today. Sure, they're pretty, but to receive one is a real honor because I was competing against hundreds of qualified entries, the same way your resume may be in a "contest" for a job opportunity along with hundreds of other resumes. I was pleased that my resumes rose to the top and I "landed the job."  And I would be equally honored to be part of your job search journey and write a resume for you that wins the job.