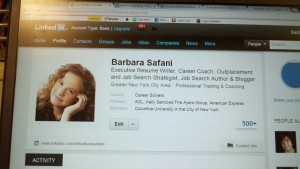 Over the past few months I have landed several long and short-term projects that I never would have had a shot at if it weren't for social media. By spending less than 15 minutes a day on an easy and fun strategy for building relationships, I was found by the people who needed someone with the type of expertise I possess. Through my profiles on LinkedIn, Facebook, and Twitter, I became top of mind and relevant to people all over the world without ever leaving my desk.
Whether you own your own business or you are looking for your next job, being known in your professional niche is important. Too many job seekers expect to gain recognition and secure opportunities just by plastering their resume on umpteen job boards. But employers want to interview candidates where there is some previous connection; through another employee of the company, an affinity group, or now more than ever, through social media.
Many job seekers will spend hours posting their resume on line but claim they have "no time" for social media. We all make time to brush our teeth, bathe, and eat. These are necessities we do every day and social media is no different. In less than 15 minutes a day, you can take some steps towards creating a more robust and effective social media strategy that can in turn help you better manage your career or land your next gig. Here are a few suggestions.
Brand or be branded. It's easy to create a profile on LinkedIn or a bio on Google+  or ZoomInfo. If you don't take control of your online presence, any information about you online will be aggregated by the search engines and that information may or may not truly represent your professional self. Why leave this important task to chance? Create profiles on multiple business and social networking and identity sites to manage your online identity and protect your professional brand.
Say less to achieve more. Twitter is perhaps the most powerful example of this concept. Saying more doesn't make what you say better. We are no longer in high school where we are required to write a 500-word essay. Today's reader wants a quick and compelling message (generally in 140 characters or less). Use sites like Twitter to give people bite sized pieces of important information that demonstrate your expertise and commitment to your profession. Consistency, not verbosity is the key.
Be nice. Social media may be bringing back manners one post at a time. It's the perfect forum for letting people know you are listening to them and appreciate what they have to say. By retweeting information on Twitter or "liking" a post on Facebook, you are letting people know you value what they write about while remaining on their radar.
Find evangelists. Spreading your message of value is a great strategy for building up your social media capital, but think about the implications of having multiple people spreading that message every day through blog posts, tweets, Facebook shares, and LinkedIn updates.
Be lazy. If you have something to say there is nothing wrong with spreading that message across multiple online platforms that attract multiple audiences. A blog post you write can quickly be turned into an article, a presentation, a tweet, or a LinkedIn status update. Repurposing doesn't diminish the value of your message; it simply solidifies it.